I was born Lynette (Ehrlich) in Johannesburg, South Africa.
Natural designs have always fascinated me. At the age of ten I caught butterflies in the fields to examine their intricate patterns and colors.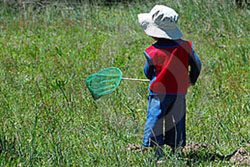 My childish curiosity drew me to African beading. I sought out African woman doing beadwork on the sidewalks. Their vibrant sense of color, design and proportion, and their painstaking work were awe-inspiring to me. This occurred long before beadwork and African art became popular. I gathered a considerable collection of African beading and dolls.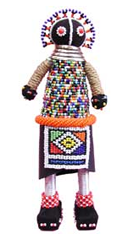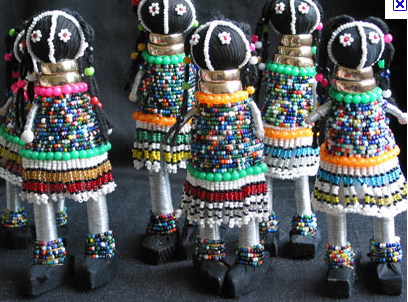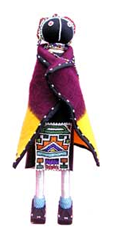 Another childhood highlight and inspiration were our trips to the African game parks and Ndebele tribal villages. Their mud huts are painted by the women with dramatic and vibrant colorful geometric designs. Beadwork and pottery were similarly decorated. My appetite for such creative work was insatiable. This exposure to African art has been indelibly emblazoned in my creative spirit.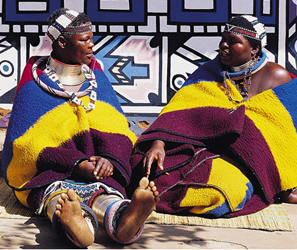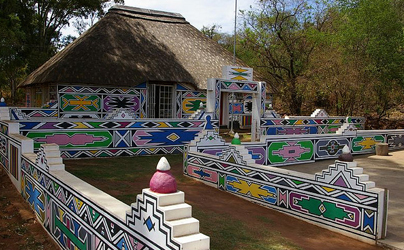 My mother and grandmothers sewed, knitted and crocheted everything that we wore. Thus my sewing skills developed at a young age. I soon began to make doll's clothes and eventually designed and made everything in my wardrobe, including my wedding dress. I was commissioned to design and make several other wedding dresses too. I graduated as a teacher from the Johannesburg School of Home Economics, where we learned millinery, haute couture, upholstery, fine embroidery, pattern drafting and more.
My first foray into printing was to linoleum block print a dress for my future husbands graduation.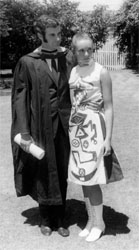 My husband and I left South Africa in 1972 to tour Europe in a camper with our 6 month old baby from there my husband applied for a residency position in Canada, and we went to Winnipeg for 6 months. It was midwinter, and coming from sunny South Africa this was not what we wished to endure so when my husband was accepted into a 4 year residency in Pathology at Harvard in Boston, Massachusetts, we moved there. With 2 young children, and a student husband, we needed more money to survive.
I began silk-screening on fabrics and making one of a kind designer clothes such as kaftans, jacket, skirts, shirts as well as, pillows, wall hangings and printed sheets. In order to showcase my wearable art, I showed my wares on the sidewalk at Harvard Square, and I quickly sold everything that I made.
There were instances when I literally sold the clothes off my back. One evening we went to the symphony. I was wearing a new black silk dress that I had designed, printed and sewed. It had been quite challenging to print light on dark with very basic inks. I was very proud of the dress. When I went to the bathroom, a woman said to me "I love your dress, where did you get it?" This happened quite regularly when I went out, so I went into my usual mantra: "I made it myself, I can make you something, it won't be the same, I only do one of a kind, and here is my card". She said, "I want that dress and I want it now!". I did not wish to sell the dress, so I named an outrageous price, she promptly pulled out her checkbook and wrote the check. Shocked, I pulled off the dress, handed it to her and went back into the symphony with only my coat over me. On several occasions I sold my hand printed jackets literally off my back for whatever price I asked.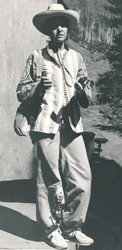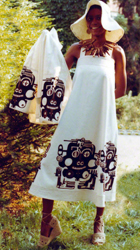 My clothing and silkscreened designs were unusual and ahead of their time.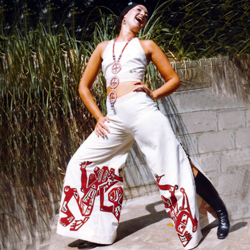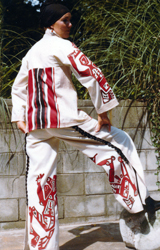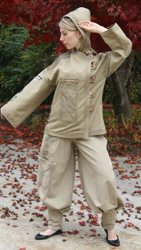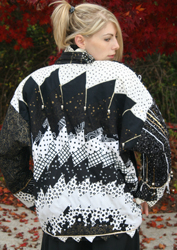 I made my first silkscreen-printed quilt 35 yrs ago and was subsequently commissioned to make several quilts for customers in Boston, all of which were one of a kind.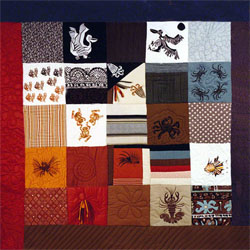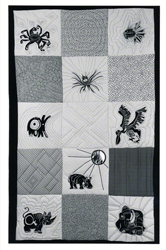 During our time in Boston I was able to provide for our growing family and even managed to pay for a trip back to South Africa, While we were there we fell in love with some very expensive sculptures by a famous African sculptor, named Lucas Sithole. These were way beyond our means; however we really wanted them. I was able to take enough orders from friends and family to cover the full cost of the sculptures, and a series of woodcuts (The Zulu story of Macbeth) by the well known artist, Lucky Sibya. On our return to the USA, I worked hard to fill all these orders. I still treasure these artworks.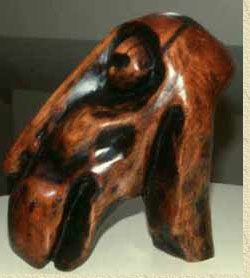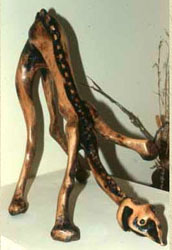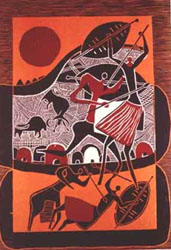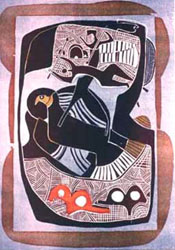 By the time my husband finished his studies in Boston, I had a highly successful business and was well known. We now moved to Atlanta where my husband joined a group of pathologists. During the following years I continued to fill orders from both my existing clients back in Boston and the new clients in Atlanta.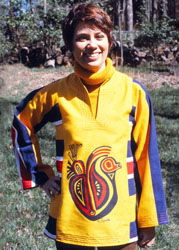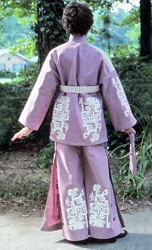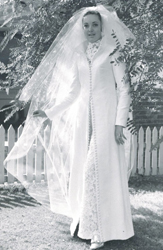 Atlanta however, was not ready for my designs at that time. It was still somewhat conservative, and people no longer stopped me on the street to ask where I bought my clothes. The business as it was in Boston was never re-established in the same way. Over the next few years we had three more children. With my husband providing most of the income, I was able to raise my children and spend more time developing my art without financial pressure.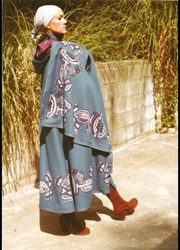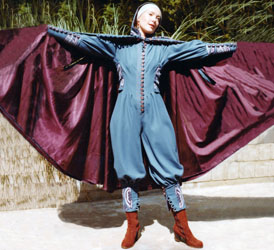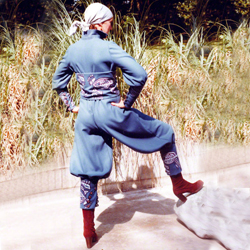 During this time, I received a commission to print vertical blinds for the very large windows of a state of the art orthodontic practice in the Netherlands. There were daunting technical challenges to overcome. The artwork had to show properly in spite of the long distance of the drops, the overlap of each vertical strip, the difficult texture of the fabric, and special requirements of the plastic ink used to ensure a durable finish. The uniqueness of what I was doing attracted media attention. The story was featured in a TV interview, as well as in several newspaper and magazine articles in the United States and the Netherlands. On completion of the job I was sponsored to fly to Holland to attend the opening of the practice. The designs were a great hit. Many years later the building was sold, and the purchase contract specified that the blinds were to be included in the sale.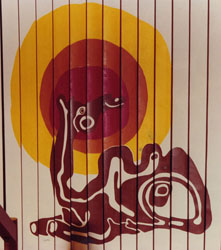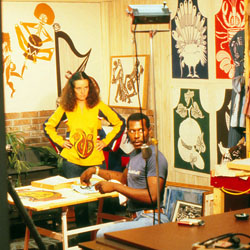 One of my desires is to implement my series of the Twelve tribes of Israel, in the stained glass windows of a synagogue. So in order to understand the challenges and limitations of stained glass, I took classes and as a result constructed one of my favorite designs "Daddy Elephant". I also constructed "Mother and Child" which now adorns the main living area in my home.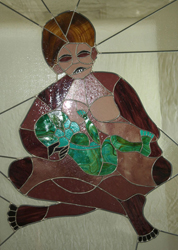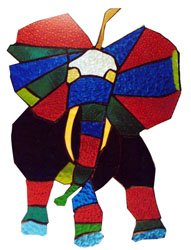 I delved into the medium of laminating fabric, creating bold new designs for laminated aprons. These I had manufactured in Europe and they sold well.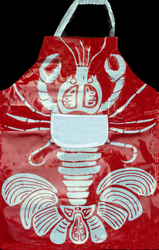 While my children attended Hebrew day school, I was invited to use my talent to illustrate their School Year Book by depicting the 15 major Jewish holidays. I initially did these in black and white. These were an instant hit and by popular demand I redesigned this "Celebration Series" in full color, and also hand silkscreened them as fine art to sell as fundraisers. Several sets of this "Celebration Series" now hang in some of the major Jewish institutions.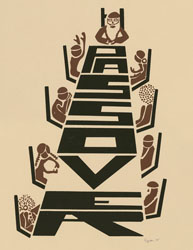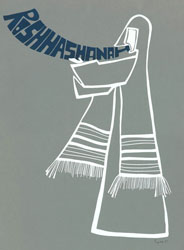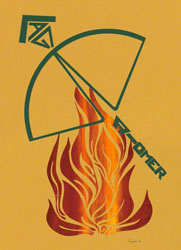 Consequently, I was commissioned to create fine art pieces including some of the Twelve tribes of Israel for Jewish institutions as fundraisers, and large sums of money were raised. These works are very deep, full of symbolism and rich in narrative, and required a lot of time and extensive research. Despite tight deadlines and severe time constraints I have never missed a deadline for any of my artwork.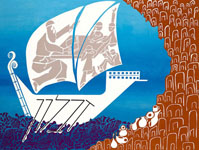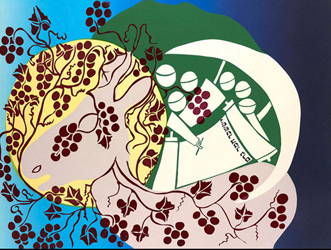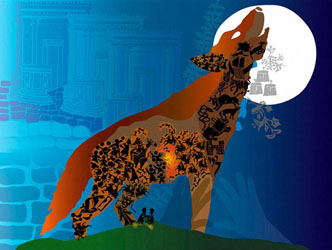 The versatility of these designs enabled me to use them for, quilts, challah covers, matzo covers tallis and tefillin bags.
I managed my husband's pathology practice and private laboratory full time for 5 years, following which I decided to try my hand at silversmithing, (again self taught). I produced a series of designs with a unique system of interchanging links that can combine different pieces to form bracelets, necklaces or earrings.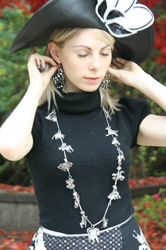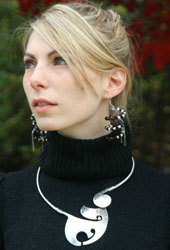 I successfully applied my design abilities to the architectural and interior design of two custom built homes in Atlanta and to renovating an older home in Jerusalem. These strongly reflect my eye for design, material and use of light to integrate the structure with the surrounding environment. Following this I was appointed to the committee to build and design a synagogue.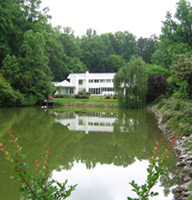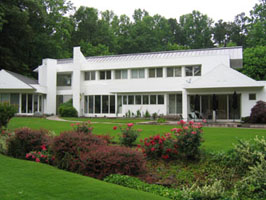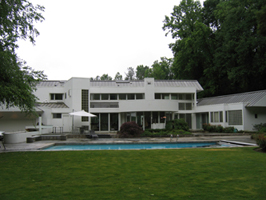 The building committee requested that I make the ark curtains and central table cover. These were made in velvet, using many hundreds of small bottles of glitter fabric paint, accented with raw silk. I designed and painted several Torah covers using this same process.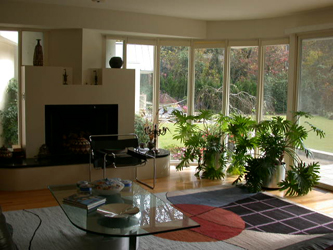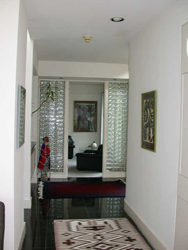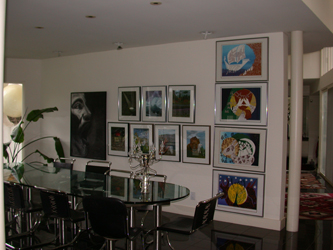 The design of the central partition ("mechitza") was a very challenging project. Full vision was required from the women's side and limited vision from the men's side. I thought about this and eventually came up with a successful solution by having my celebration designs printed on a special perforated material. When light is shone on the one side, the eye is drawn to the design, tricking the eye to look at the design so as not to see through to the other side. Whilst the back of the panels are made plain black allowing the eye to look through the holes making for excellent visibility from that side.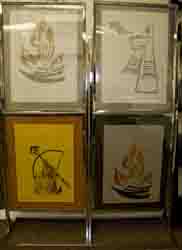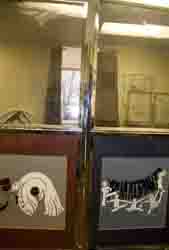 Several years ago my oldest son got married. I wanted to make a chuppah (wedding canopy) to become a family heirloom. I chose machine embroidery as it would endure for generations. I invested in my first household embroidery machine and learned the software. I love this medium. I love designing and drawing on computer.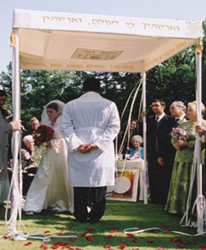 Because of my love of this medium and the need for more sophistication, I have invested in two commercial fifteen thread Tajima embroidery machines, for which I create and digitize my designs. I then quilt these designs using freeform quilting techniques that reflect my unique personal style, resulting in bold wall hangings and quilts.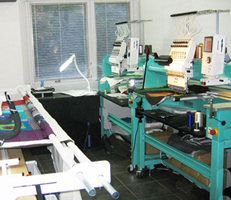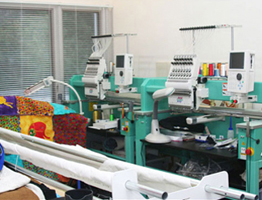 I am now ready to create designs for various commercial applications and have worked diligently to develop a website featuring my past and present work. I enjoy using Photoshop and Illustrator for my projects